Whoop! Salary week is upon us, and it's that time of the month where we all are expecting or have received our paycheck. Paying yourself first is one of the pillars of personal finance and considered the golden rule by many financial planners.
The basic idea behind paying yourself first is simple to understand. By paying yourself first, you're saving away some cash for yourself into your savings or retirement account before paying your bills, buying groceries, or buying that brand new TV.
We all desire to have wealth and be financially free and that is why Fundbae a money app that allows you to keep your finances under control, massive ability to spend less, save more, and reach your goals faster.
Here are some handy tips on how Fundbae helps you pay yourself meeting your goals
1. Helps you Save Better
Fundbae helps you to put savings first. With Fundbae, you can decide how much you want to save/invest while earning good returns on any of the plans. To save well, we recommend the 50–20–30 (or 50–30–20) budget rule, which is an intuitive and straightforward plan. This rule states you should spend up to 50% of your after-tax income on needs and obligations that your must-have or must-do. The remaining half should be split up between 20% savings and debt repayment and 30% to everything else that you might want. Once you get used to the idea of saving first and see your savings start to accumulate — it becomes a kind of addictive. The more you save, the more you'll want to save!
2. Savings is Automatic
Once you sign up on Fundbae, you can set up an automatic transfer to any savings plans earning up to 15% on savings. The strategy is simple. It takes 5 to 7 minutes to set up an automatic recurring transfer in any Fundbae products and earn good interest in achieving any of your financial goals. So instead of waiting for saving to feel like second nature, consider putting as much as you can on autopilot.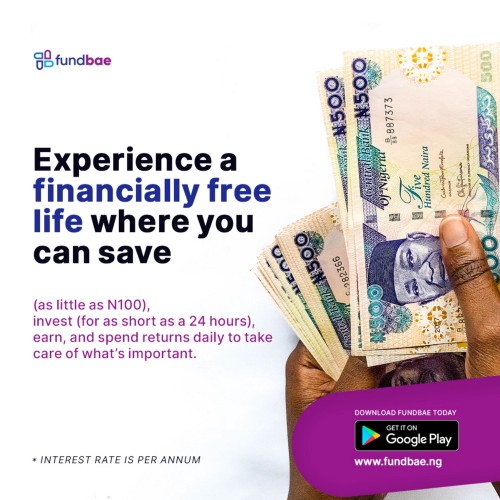 3. Earn good returns while saving
All of the savings and investment options on Fundbae is customized to meet any of your financial needs. Below are the Fundbae plans to get familiar with:
· Flexbae: is a flexible savings account where you earn interest on your loose funds no matter how small the amount and how short the time you are investing. This plan allows you to spend interest in as little as 24 hours. Withdrawal from this account is free, and also the interest rate here is up to 12% per annum.
· Vault Lite — a plan that enables you to save consistently towards a particular financial goal. The interest rate for your vault account is up to 10% per annum.
· Vault Plus — a fixed savings option that allows you to earn higher interest per annum. The interest rate on your vault plus is up to 15% per annum and paid upfront.
· Save2B — a savings plan where you earn a high-interest rate and qualify for a loan of up to 200% of your savings after consistent savings for six months.
4. Win at Life
Winning feels good. It feels good to be financially independent. Even more, it feels good to know that your money in Fundbae is working for you 24 hours a day. Life goes by while most people are making grand plans for it. By following the discipline of paying yourself first, you build up momentum and have something to show for the years of hard work and discipline.
In other words, Fundbae's goal is to make sure your future financial goals are covered before you spend any portion of your paycheck on, say, a happy hour with friends.
Fundbae is available to users on Web and Android platforms. For more details and to know how this works, visit www. fundbae.ng or follow us on our social media platforms @fundbaeng.